Chennai is a popular food destination mainly for the dish Chicken 65. Apart from the usual dosa and idly, Chennai offers a lot of varieties in food. Its vibrant and rich culture is seen in its diverse food palate. Being the capital city of Tamil Nadu, Chennai is also popular for street foods. If you are a food lover, you should definitely not miss the following street foods in Chennai.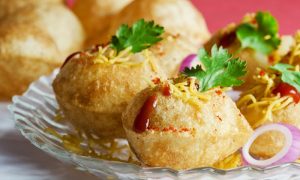 Chaat
Mini Street is a popular area in Chennai for chaat items. It is the North Indian food served best in this area. Kakada Ramprasad is visited by every local as it serves delicious chaat items. Ensure to try Aloo Tikki Chaat since it has the appropriate amount of crispy. Some of the shops famous for chaat items in Chennai are Ganga Chats, Kakada Ramprasad Sweets and Chats,and Hemanth Chats.
Uthappam
Uthappam is one of the popular South Indian dishes. It is almost like dosa but filled with vegetables and thicker in size. It is mostly served with chutney or sambar. Seena Bhai Tiffin Centre is a famous option when you want to eat Uthappam in Chennai. They have been serving for about 36 years. It is located in Mint Street. People from various parts of the city visit this restaurant to try the famous two dishes, ghee idly and ghee uthappam. If you wish to try uthappam in Chennai, you need to visit Ratna Dosa Café, Anachi Dosai Kadai and Saravana Bhavan.
Bhajji
Bhajji tastes like pakora. It is a delicious snack served in various parts of Chennai. Chutney is served as a sidedish for this snack. Jannal Kadai is a small shop popular for bhajjis. People stand in a queue to buy and eat this snack. Other places to try Bhajji in Chennai are Mak n Bhajji Shop and Nair Mess.
Puttu
It is a delicious and healthy breakfast dish made using rice flour and coconut. It is best to try this dish underneath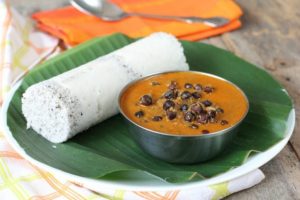 the North Usman Road flyover. A guy who is named Ismail sells puttus that are made using black rice. It is just price Rs.10 per packet. Other places to try puttu in Chennai are Maplai, Ente Keralam,and Nair Mess.
Sundal
Sundal is a favorite street food in Chennai. It is easily sold on most beaches in Chennai. Trying sundal in Marina Beach is worth it. It is prepared by mixing boiled chickpeas, shredded coconut and onions. Top three places to try Sundal are Royal Sandwich, OSB hot and chat and Mathsya.