Dakshin
It is possible to order from the menu card or choose for the buffet. Some of the popular varieties in this restaurant are Andhra style chicken, dosa, chutneys, and rasam. The restaurant has a lovely ambiance. It is completely decorated with ancient Tanjore paintings.
Moreover,Carnaticclassical music is played live, which makes the ambiance more cheerful. It is a place suitable for people who wish to try South Indian delicacies. The taste is delicious and delicate. Dakshin is an authentic south Indian restaurant that has slight Chettinad impact. It is a perfect place to dine in for breakfast, lunch or dinner in Chennai.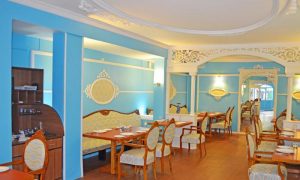 Winter Palace
Lovely baroque designed interiors with white façade and summery blues all around, Winter Palace is a romantic spot for the couples who wish to eat delicious food in a mesmerizing ambiance. It is famous for delicacies such as salted fish, dumplings, little meat pies and much more.
Annalakshmi Chennai
Chennai has numerous eateries that make you visit this city again and again. Annalakshmi is one of the best restaurants in Chennai that tempts you to visit once again. This restaurant is the best example of perfection mainly because of its plush seating arrangement and intricately designed interiors. The restaurant serves authentic South Indian foods. You can see large options on the menu card. It is a lovely place recommended for food lovers.
Madras Pavilion
Madras Pavillion is one of the best dining restaurants in Chennai. It offers a combination of eastern and western palate dishes. It provides a royal dash to your usual dining experience through its refined and classy setting. If you are searching for a restaurant with a regal dining ambiance, you need to consider visiting Madras Pavillion.
Karishma Pani Poori Shop
Are you craving for chat items in Chennai? If you are confused about where to eat, you should definitely visit this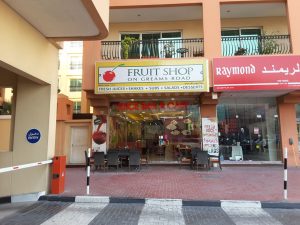 small chat shop. It is the best place that treats offers a tangy chat experience. The pani puri flavor would tempt you to try an additional round.
Fruit Shop on Greams Road
It is a favorite shop among students. It is also one of the favorite restaurants in Chennai for the locals and visitors. It is a must visit shop especially when you are arriving at Chennai at peak summer days. It offers milkshake, yogurt, fruit juices, shakes, and assorted desserts. This restaurant is popular since it does not use artificial flavors or colors in the food. They use only fresh fruits for preparing the juices and shakes.